Excellence in Education Ceremony Recognizes Student Achievements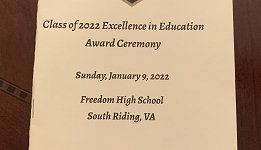 On Sunday, Jan. 9, the Excellence in Education award ceremony was held at Freedom High School.
The top 5% of seniors were selected for their exemplary grades. There were also some students who received this honor based on how they performed for the National Merit Scholarship, high PSAT scores in their junior year (semi-finalists and finalists).
"I actually did not know what this was," said senior Vishnu Alavala. "I was just interested in keeping up my academics and really just pursuing things I'm interested in. That just means being the best intellectually I can. I think it was kind of unexpected and interesting, and I was excited about it when I first heard about it." 
Alavala plans to explore her passion for neurosurgery in college and further study the brain and how it behaves. 
Each student in the ceremony got to choose a "teacher honoree" that helped them in different ways in their four years at FHS. 
Amogh Ardhaparkur chose his Taekwondo teacher.
"I chose my Taekwondo teacher, his name is Mr. Faleski," Ardhaparkur said. "He's been my teacher for 10 years, so that's why I chose him."
Few people receive the award.
"So people who don't get it shouldn't feel discouraged or anything," Alavala said. "It's exclusive for the sake of being exclusive. It's the top 5%. They're limiting it out on purpose. I feel like people shouldn't have this as a goal and it shouldn't be their target or destination to get this. It should just be to do what they want to lead them to wherever they want to go."