You're in for a "fearful" night at Fields of Fear!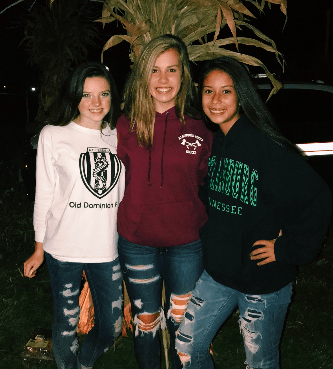 Fields of Fear is one of the main events of the fall season that I look forward to. Fields of Fear takes place at Cox Farms at night. It's place you can go to get scared and have a fun time with friends. Cox Farms puts on the month-long event during the fall season, providing an opportunity to have fun with friends and get in the Halloween spirit. 
The three main attractions at Fields of Fear are The Forest: Back 40, the Corn Nightmare Maze and the Darkside Hayride.
One of the scariest attractions that Cox Farms has to offer would definitely be the Forest. Thrill-seekers begin the attraction experience by entering the woods on a dirt path. As groups make their way through the Forest, multiple jump scares and obstacles welcome them. The scariest part arrives at the end, when an actor chases customers approaching the exit. If you enjoy a good scare, you'll love the Forest. 
The Cornundrum, or Corn Nightmare, is a close second when it comes to the scariest attractions of Fields of Fear. Although jumpscares were still present, the brighter lighting and enclosed space made it easier to predict. There were also many more obstacles in-between customers and the exit, including scary houses, temples, and buses.
The Darkside Hayride, in my opinion, is not scary at all. The actors and main features of the hayride are relatively far away from the entrance, so customers are simply riding to the unknown destination for a little less than half of the ride. Eventually, you make it to the the "Circus", the overall theme and attraction of the hayride. There are not many jump scares or physical contact with the actors and riders, unlike the Forest and Corn Nightmare. In my opinion, the hayride was more humorous than scary, so people who prefer a less frightening Halloween experience would probably enjoy the Darkside Hayride.
There are also alternatives to the three main attractions for customers to enjoy as well. These include the bonfire, dinosaur slide, karaoke and food shops. I had about an hour to spare before participating in any of the attractions, so the alternatives are a great way to pass time as well.
Overall, Fields of Fear is a really great experience that I highly recommend. It provides a great Halloween atmosphere as well as a place to hangout and spend quality time with friends.