Varsity gymnastics flies through first meet
The Freedom varsity gymnastics team opened the season last Wednesday with a home meet against Broad Run, Heritage, John Champe and Rock Ridge High School. The Freedom gymnasts are the reigning state champions, and they started off the season with a strong win. Coming in first with a team score of 38.225 over Champe, who finished in second place with a score of 35.475, the team secured their first victory.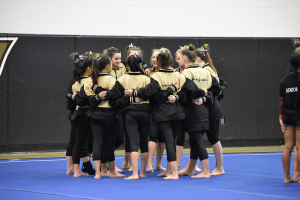 Sophomore Riley Waldrop took home the gold in the all around with a score of 37.550, followed closely behind her freshman teammates Liliana Gines and Kelly Fangyen with scores of 37.275 and 37.150 respectively.