Varsity's hard earned win over Independence
"Let's go Eagles, you know what to do," shouts the Freedom students fueling the Varsity Volleyball team to finish strong. "You gotta rock with the black and roll with the gold."
After an intense back and forth battle with Independence High School, Freedom's varsity volleyball won in the fifth set on Thursday, Sept. 12.
Varsity scored three points right out of the gate in the first set, but Independence surprised the lot by quickly making up the difference and surpassing Freedom 7-5.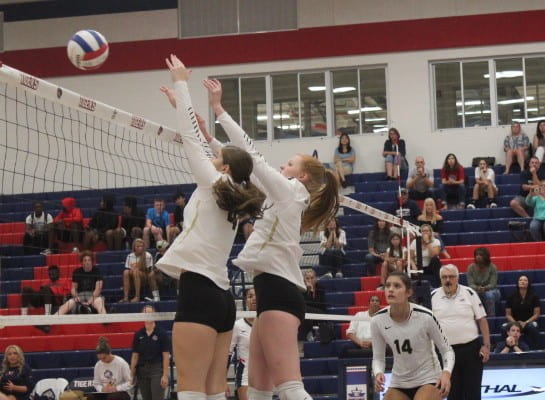 Independence used the possession of the ball to their advantage scoring 3 points in quick succession. At 15-8, with Independence in the lead, he JV volleyball team cheered relentlessly to bring up the level of school spirit and encourage the team.
Independence came out on top of the first set 25-23. Unshaken, Freedom starts off the second set with a 7-4 lead. Kaitlyn Sourinhong served next and Independence returned by spiking the ball over the net, which is barely saved by Haley Adams. Sourinhong bumped the ball and Avary Flynn spiked it over, earning Freedom another point in the rally.
Freedom continued to crush the competition throughout the rest of the second set, winning 25-14. Freedom kept a few steps ahead of Independence for most of the third set. About halfway through, Independence tied Freedom 11-11 and the rallies became more intense. Freedom broke the tie 16-14 but Independence does not give up. Independence eventually tops Freedom with a score of 21-20, and the audience holds a collective breath. Freedom quickly earns four more points and fights to win the set.
Independence catches up and ties 24-24. Freedom earns the 25th point, and the crowd chants, "just one more, just one more!" Then, Independence made a point and the rallies that follow became increasingly heated. Either team would only need two more points to win. It was a close rally, but Independence won the third set.
The fourth set when by in a blur of activity, each team trying to best the other. In the end, however, Freedom won in the fourth set 25-21. All that's left is the final set of only 15 points. Despite the exhaustion of the game, Freedom stayed strong and played each rally with equal vigor, and won the fifth set 15-5.