PSAT Memes are Back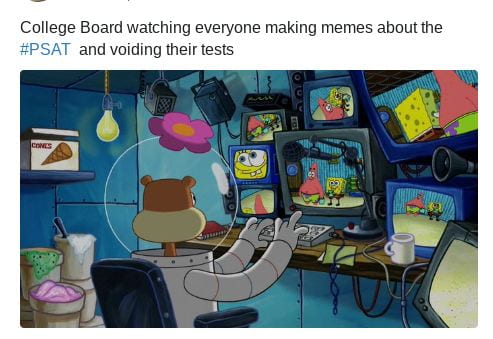 On Wednesday, Oct. 16, students across the country put down their pencils and picked up their phones after testing for three whole hours. Twitter immediately exploded with memes joking about passages and questions involved in the PSAT. While the memes are a fun nationwide joke among teens, they are a major issue for College Board and can cancel scores of students who decide to participate.
College Board is aware of the memes and has repeatedly reminded students of the consequences if students are caught releasing any test information, stating that, "students are notified that disclosing exam content, regardless of topic, can result in their scores being canceled."
In response to a Twitter thread dedicated to the PSAT memes, College Board replied asking, "Can you delete this tweet? We ask that students not share test content on social media. Thanks."
More recently, PSAT memes have become popular on the TikTok app, which features short, usually comedic videos. TikTok users had no hesitation to jump on the trends, creating viral videos revolving around the PSAT memes.
Before students find themselves wrapped around the phenomenon that is the PSAT memes, College Board reminds students that one of the agreements they sign before taking the test is to not share information. By reposting and engaging with PSAT memes, it is a violation of the rules.