Recapping the 2019 Cross Country Season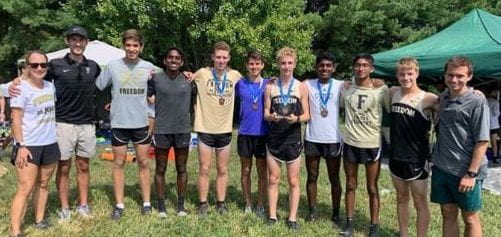 As regular season is wrapping up for Freedom's Cross Country, the team is advancing to postseason. In postseason they plan to compete in regionals and states during November. Regionals will be raced on the Woodgrove course, at Woodgrove High School on Wednesday, Nov. 6. The state meet will be at Great Meadows, on Nov. 16.
The postseason girls team consist of Jessica Borden, Abigail Church, Bailey Elliott, Carleigh Fick, Madison Garber, Aislinn Garcia, Mackenzie Keller, Grace Maloney, Katie Ramboyong, Sarah Ramboyong and Julia Wood.
The postseason boy team consist of Kevin Aviles, Jake Beyer, Ryan Borden, Saikiran Chandramouli, Daniel Gittelman, Joshua Gittelman, Subodh Julapalli, Sumadh Julapalli, Matthew Kane, Travis Nguyen and Clark Smith.
Over the course of three months Freedom has competed against schools such as Riverside, Rock Ridge, Potomac Falls, Stone Bridge and Cologan. This was a major change from many schools leaving the 5A region.
This season was a transition. With coach Karen Langrock, on maternity leave, coach Christopher Weeks stepped in as head coach along with coach Alison Gittelman as assistant coach.
Now all the runners are preparing and training for indoor track. Tryouts for indoor track will take place on the track on Nov. 11-14.