DECA Racks Up Wins at States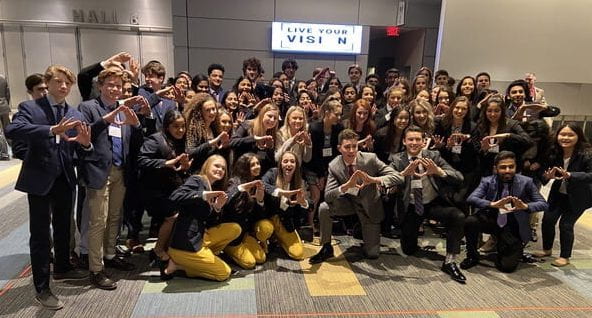 On Feb. 28, approximately 70 DECA members loaded onto the bus to head to Virginia Beach for the State Leadership Conference.
In Virginia Beach, FHS DECA attended awards ceremonies, voted for state officers, had access to leadership workshops, and networked with other DECA members from around the state. But the highlight of the weekend was the competitive events that took place. Individuals who placed at the District leadership conference completed business scenario role plays, and multiple teams showcased their written event presentations and marketing plans.
Below are the winners for each category:
Grace Maloney: 1st place, Business Growth Plan
Khushi Ghandi, Divya Kumar and Dhiya Srikanth: 2nd place, Integrated Marketing Campaign (Service)
Sally Steppling: Top 8 finalist, Sports and Entertainment Marketing
Ankita Somalwar: Top 8 finalist, Buying and Operations Research Event
Julia Riley, Emma McPherson and Emily Hutto: Top 8 finalists, Franchise Business Plan
Ava Proehl: Top 8 finalist, Human Resource Management
Sami Fuleihan: Top 8 finalist, Principles of Marketing
Smrithi Ramesh: Top 8 finalist, Principles of Finance
All competitors listed above will be advancing to the International Career and Development Conference in late April.