Students Get Puppies During Quarantine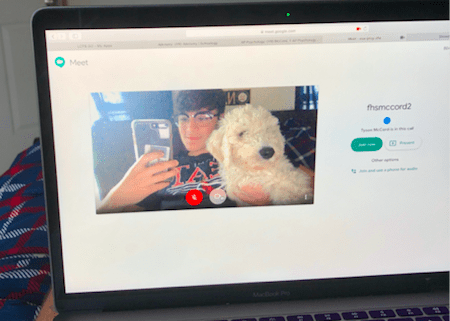 With the schedule completely free for weeks due to quarantine, many Freedom family's decided it was a perfect time to add a new furry member to their families. 
"I think that COVID did play a role into getting the dog at the time that we did because we knew that we would have everyone home to take care of her, " said senior Taylor Lech. 
Adding a new puppy into the mix before COVID-19 would have been quite the balancing act. From many students running from school straight to after school practice would make it hard to image a new puppies into their lives.
"Being at home all the time made the decision to get a puppy pretty easy because I had a lot more time to train and play with my new dog that I normally wouldn't have if it weren't for quarantine," said senior Alex McMillan. 
With feeling lonely with no way to socialize or needing something to do with the excessive amount of free time now on their hands, Freedom students found a way to fill the void by getting new dog friends. 
"Getting a dog has definitely enhanced my quarantine experience because it has been very nice having a friend to spend time with, and it's been really fun training and playing with my new dog," McMillian said. 
Now with students at Freedom starting online school and sports being added back into schedules, it could be difficult to keep caring for the new friends the same way. 
"My schedule already has been getting pretty busy with school and sports starting back up, but luckily whenever I am not home to care for my puppy, either my mom, dad or brother are home to watch and spend time with him," McMillan said. 
Dogs tend to thrive on routine and now with the furry friends used to having the family around 24/7 could cause them to suffer from Dog Separation Anxiety with many schedule's beginning to ramp back up. For months during quarantine, the furry friends received a lot more attention than they might have been used to. 
"We got Roxy a week before school had started, so not that early on but early enough that she doesn't know what it's like to not have everyone around. We are training her to be used to being alone for a couple hours a day to help make sure she doesn't suffer from separation anxiety," Lech said.