LCPS Sends a Sincere Apology to the Black Community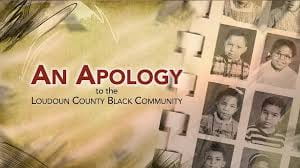 On Sept. 25, 2020, the Loudoun County School Board, the Administration of Loudoun County Public Schools, and the Loudoun County Board of Supervisors issued an apology to the black community of Loudoun County for the operation of segregated schools, the negative impact, damage and disadvantages that black students and families had to experience.
The apology points out what the county did—or rather, what the county failed to do—regarding equality in education. According to the official apology posted on the LCPS web page, several actions were taken to prevent the desegregation of several schools, including refusal to fund schools if segregation was enforced by the federal government (this decision was overturned in 1962) and approval to support the Governor's plan "designed to ensure racial segregation, including giving the Governor the power to close any schools facing a federal desegregation order" in 1956.
The apology also lists several instances where the black community was mistreated and disrespected, including "inequities in teacher salaries, recruitment, on-going professional learning, as well as administrative leadership development for principals and staff" and "school names and a school mascot named after or potentially named after Confederate figures and plantations."
Senior Jackson Smith is a member of Jack and Jill of America, an organization dedicated to improving African American communities across the United States. Currently, he serves on the Regional Task Force along with being the former president of the Loudoun County chapter.
"I feel that the apology did address the right issue," Smith said. "I think that them publicly admitting what they did in the past was a good thing and that they did it without being asked to was also a positive. They admitted to there wrongdoings and are asking for a chance to make it right, [and] a lot of other school systems wouldn't do that. I feel that what Loudoun County Public Schools has been doing as of after those events and up to the present have been positive."
Senior Joshua Howard also shared his thoughts on the apology.
"I do feel as if the apology addressed the correct issues," Howard said. "The systematic racism has been part of Loudon for as long as can be remembered. I'm glad that they've addressed the issue. LCPS admitting what they did was wrong shows that they looked back at Loudoun County's past and saw that what happened back then was wrong and disrespectful to those of a different color to whites. It also shows LCPS of today what not to do to this day."
At the end of the posted letter apology, LCPS acknowledges the organizations that provided help and feedback on the letter. Some of these organizations include:
Minority Student Achievement Advisory Committee (MSAAC)
Loudoun Douglass High School Alumni Association
Black History Committee – Friends of Thomas Balch Library
Edwin Washington Project
Loudoun Branch of the NAACP
Loudoun Freedom Center
Loudoun Diversity Council
Excellent Options