COVID-19 Mask Rules Seem to be Unclear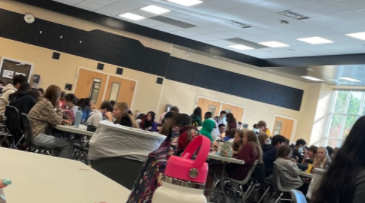 The Freedom high school mask mandate is very unclear on when to have masks on verses off, according to the students and staff. 
Due to COVID-19 there are now school restrictions regarding wearing masks all day at school. Although there are some restrictions, the restrictions that have been given are very unclear to most students and some of the staff. 
Since Freedom High School is so big, it is not possible for everyone to be socially distanced at any time during the day. Without social distancing, the masks are even more important. 
After school at events like football games, there are no masks. Hundreds of students are packed into one small section of the bleachers maskless around each other. 
The maskless students on the bleachers are practically on top of each other. Students are cramped into the student section trying to get as close to the front as possible. Students also scream and cheer for the football team letting spit fall onto the people in front of them.
Along with the cheering the students also throw things like beach balls between each other all touching the same surface. After touching the thing that is thrown, many students do not wash their hands before eating, drinking or touching their face. 
"It makes me super nervous. And that's why I don't go," said Colleen Hilliker, an FHS art teacher.
But students and staff also take their masks off during the school day. Many people take their masks off to eat and drink or whenever outside. 
In the event of a fire drill students and most staff do not know if they should wear masks or not.
"The masks must always be on except you can take mask breaks," said Kathryn Koscinski, FHS assistant principal.
Although there is a Loudoun County protocol to wear the masks during fire drills, that protocol is unclear to the students and staff. 
"I don't know, now that you're asking," Hilliker said when being asked about if students need to have masks on during fire drills.  
With all of the unclear rules and the big events happening without masks, it is unclear if the masks really helping. 
On October 15, 2021 there were 92 active cases within Loudoun county public schools and 221 people actively in quarantine. 
"I don't think that there's enough COVID-19 restrictions but there also isn't a lot they can do because of the amount of students and small space for flexibility," said Gracie Ty, an FHS sophomore. 
While being in the building for school many people within the school building have different thoughts on COVID-19. Some people are very concerned with COVID-19 and try to stay away from people as much as possible. 
There are also many students within the building who do not wear their masks correctly. Other people in the building are constantly reminding them to fix their masks.