Freedom's Esports Team Wins States!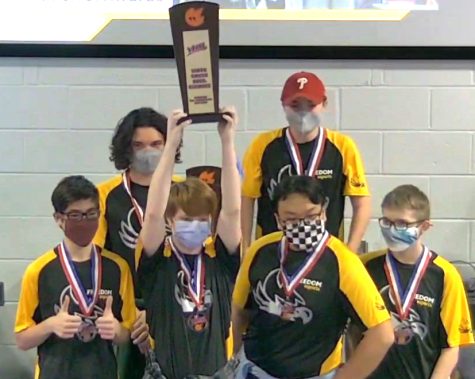 The FHS Smash team won states! They woke up early on Dec. 18, and headed to Shenandoah University, which is about an hour away.
Two smash teams were able to head to states, Team Freedom and Team Eagles.
First up was quarter finals, were both teams won with ease. Team Eagles beat The Osbourn Park Bees 7-2 and Team Freedom's opponents did not show up, resulting in a forfeit, so Team Freedom advanced without even playing a game. Next up was semi finals which was quite a spectacle because it was Team Freedom vs Team Eagles, meaning Freedom was guaranteed a spot in finals, it just depended on what team won.
Both teams made the call to play characters they are unfamiliar with in order to not give away their strategies. It turned into quite a spectacle with the players choosing some pretty wacky characters. The players were having a blast with it and the best part was how much the commentators enjoyed it. Team Freedom ended up winning 4-2. Next up was finals, with Team Freedom vs Lansdown's Wi-Fi Warriors.
The name "Wi-Fi Warriors" ended up being indicative of what was to come: the Wi-Fi Warriors ended up not showing up in person, however they did not forfeit like the other team, they ended up playing all their opponents on the games built in online feature. The problem was the games online system is outdated, and slow, resulting in the Wi-Fi Warriors having the upper hand in this match due to them being used to online since they were used to it after a whole day of playing on it.
"Everything is slower when it is online making it more inconsistent," said senior Ryan Vu.
This meant the players would not only have to adapt to their opponents, but the conditions they are playing them in too. In fact, the Wi-Fi even went out during the first game of the set, which was very chaotic with everyone scrambling to figure out what to do. They ended up moving the teams to another building and finishing the set off stream. The set was very close with Freedom barely winning by one game. Even without the upper hand, Team Freedom persevered against the Wi-Fi Warriors. Team Freedom received a large trophy on display in the front office, and became the first ever winners of a VHSL smash tournament!