"Frozen 2" Review: Let it Go or Dive Into the Unknown?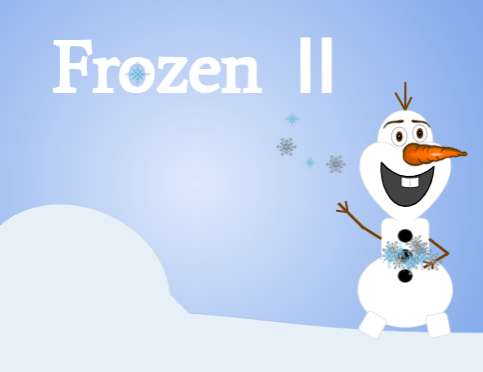 Spoiler Warning: This article contains minor spoilers.
Mysterious voices, hidden forests and elemental spirits teased a more-than-ready family friendly audience for "Frozen 2." In addition, seven new songs were added to this wintry franchise. The movie opens during Arendelle's fall festival, showcasing a happy kingdom and closer than ever sisters. However, this merry band is interrupted when Elsa starts to hear a voice calling her to discover secrets about her past. The sisters and their beloved friends Kristoff, Olaf and Sven then depart on a dangerous quest, filled with magic and fun, for truth about their kingdom's past and their own history.
The long anticipated sequel to the 2013 hit "Frozen," "Frozen 2," hit the big screen in late November of 2019. Since then, "Frozen 2" has made $1.3 billion globally on a $33 million dollar budget, breaking box office records. The animated film earned a nomination for the Oscars, Golden Globes, Alliance of Women Film Journalists and more. Despite the financial success, "Frozen 2" has received many mixed reviews.
"The songs are lackluster for a six year wait and the plot had so many holes in it, it was like Swiss cheese," junior Samantha Morton said. "However, the animation is gorgeous which is to be expect with that high of a budget. Also, Kristof and Olaf could have been erased and nothing would change except we would lose the best song in the movie which was Kristoff's eighties medley."
Sequels have an infamous reputation of not being as good as the first movie, and "Frozen 2" was no exception. Many loved the movie but were disappointed with how it compared to the first, while others were grateful for the insight on Arendelle and Elsa's history.
"There was no reason to make another movie because it ended nicely in the first one, but I loved watching it and I would see it again," junior Will Knudson said.
"Frozen was really open-ended and left a lot of questions, and 'Frozen 2' did an amazing job of answering them," junior Skylar Worst said. "I also really like how they had worries and fears that were real and not just 'I have to run a kingdom' or 'I really like this guy so I'm going to marry him'. Instead they were more like, Elsa was scared of letting everyone down, and Anna was paranoid and worried for her sister's safety."
Despite a few letdowns, the movie still had an emotional impact on the audience, expanded character arcs and amusing humor. For those who haven't seen "Frozen 2" yet, keep expectations low and await a pleasant surprise.