Comparing 2021-2022 to Past School Years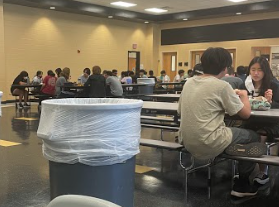 The 2021-2022 school year was different from all other school years because it was a transition year. After being gone for about a year and a half the school became full capacity again. Due to this many different things were lost and gained.
"This school year has been challenging," said Katie Johnson, FHS math teacher. "It was difficult to get students reacclimated to the building and a 'normal' classroom setting. I found that students were quieter in the classroom compared to past years." 
Being online for more than a year changed the way that students communicate with each other and made it difficult for the school year to begin.
As the school year progressed the student body got to participate in many different activities that they missed out on last year. Although there were still some activities that did not happen and were different from what they had been in the past.
One thing that was different was that homecoming was outside this school year creating a different experience than the ones in the past.
"COVID-19 affected pep rallies this year because they were outside which made it hard to see what was going on and get excited making it worse," said senior Madison Tavares.
The final pep rally of the year was inside and it had a different effect on everyone who was involved. The pep rally had everyone more excited for prom and more involved within the activities of the pep rally.
"I really missed the assemblies that different groups did in the past, like Hero in the Hallway and the Black History Month Assembly," Johnson said. 
Many other opportunities and events were also lost throughout the year. 
"This year compared to last year has been more memorable," said sophomore Caitlin Wagner.
Being back at school has made this year memorable for so many different reasons. Some being how everyone is back in the building while others are the fact that masks were required for about half of the school year. 
"I think we have lost a little bit of our community feel," Johnson said. "For the most part last year everyone was separate for their schooling and learned how to get by on their own. I don't see students talking to each other as much as I used to – in and out of class, and I hope that is different next year."
It was very difficult for everyone to get re-affiliated within the school building. 
"I feel like interacting with others in the beginning of the year was hard, but since joining sports I have enjoyed more time with my friends," Wagner said.
At the beginning of the school year, it was hard for students to get back to talking to their peers within classes, but as the year went on it went back to a more natural flow of conversation within the classrooms. 
There were many different changes and rules that affected this school year, but as the year went on things slowly went back to the way they used to be and hopefully next everything will be back to normal.