A Walk Through Worlds: A Complete History of the Art and Literary Magazine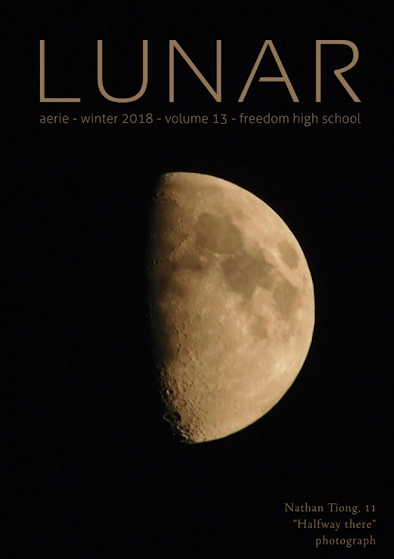 High School- what is it? What defines it? What makes it what it is?
The answer is the students.
Every teenager who treads the teeming hallways of Freedom High School is a unique individual, and it all adds up to be a radiant, kaleidoscopic dream of personalities and ambitions, all streaming outwards to join the world.
The Uncaged newsmag and yearbook delve into who and what the students and school are as a whole, but not fully. That's where the art and literary magazine comes in.
The art and literary magazine is a walkway into the minds and souls of every student in FHS, every page there is to turn, every poem or song to be absorbed is a solitary universe, and that is as important as anything.
"The art and lit mag is a great way for Freedom students to showcase their art," Junior Sammy Omar said.
The magazine was born in 2005, with the inception of FHS itself. It was spearheaded by Susanne Abdulrizak, who has long moved to another institution in the county. In the beginning, it was an 8 ½ by 11 hardcopy book, as opposed to its digital counterpart today, and it usually has no more than 24 pages.  
Back then it wasn't a club, but a side project for a preexisting class. Select early students of the FHS yearbook would endeavor to create and polish the yearbook, then switch to working on the literary magazine.
This is how it was until the magazine was passed by Abdulrizak to Neelum Chaudhry and Dr. Shelly O'Foran. Under their supervision, the book was reduced in size and number of pages, and more color was added.
After that, the mantle of Literary Magazine supervisor was passed on to Katheryn Hans, and then on to English teacher Dana Maier. Under Maier's editorship, the magazine not only switched to the prodigious online version that is read today, but also jumped from only one issue per year to the several seasonal distributions of today.
In its pre-digital days, the literary magazine was distributed with the yearbook, and had a tendency to be tossed to the side. Despite some objections from students who disagreed with its assimilation to the digital world, the new magazine has been a huge hit, taking on a roaring tsunami of readership compared to its reads before.
"We found it's read a lot more, we get a lot more viewership," O'Foran said.
Since its beginning, the literary magazine has also transitioned from a class project to a thriving club that meets on Friday nights.
Art has always existed in the lives of people. Even back when nomads wandered the empty forests of a world not yet scarred with civilization, there were paintings on the walls of caves, up to today's larger than life blockbuster movies. Art and stories is a thing has always been with us, and that's what makes the literary magazine so special.