Together We "Can" Make a Difference
Throughout the week of Feb. 4-8, FBLA (Future Business Leaders of America) and SCA hosted their annual canned food drive. While the canned food drive is normally before the holidays each year, the FBLA officers chose to do the drive later this year to help those suffering from food scarcity after the holidays. The drive was a competition among all the grade levels, with collection bins for each grade set up outside the main office. This year included a new competitive element. Unlike previous class competition years, Freedom FBLA and John Champe FBLA held their canned food drives as a competition between schools as well as classes.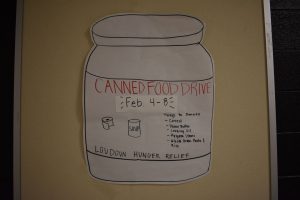 Senior and FBLA President Brittany Hendrickx discussed the importance of the canned food drive.
"Living in South Riding, many of us are fortunate enough to know where our next meal is coming from," Hendrickx said. "We need to open our eyes to the fact that this isn't the reality for many others close to home."
Many teachers, including AP Psychology teacher Tyson McCord and CTE teacher Ellen Frey, shared stories of how they have seen the issue of food insecurity and urged their students to give to those in need.
"[The canned food drive] is a way for the Freedom students to give back to both their community and those who are less fortunate," Hendrickx said.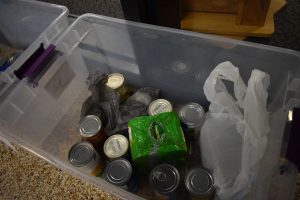 This year, FBLA also decided to give the donations to Loudoun Hunger Relief instead of the Dulles South Food Pantry like previous years.
"We chose [Loudoun Hunger Relief]  because it had a much larger audience where we could help more people in need," Hendrickx said.
The drive will ended with the seniors bringing in 114 cans, the juniors bringing 66, the sophomores 100 and the freshmen 28, but McCord's classes alone brought in over 700 cans. These cans were added to the junior class total because he teaches mostly juniors, and allowed them to win the competition!