Freedom falls to the Phoenix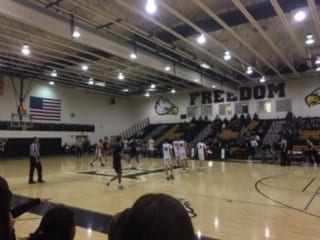 Last night, the Freedom Varsity Boys Basketball team took on Rock Ridge in a very close game. In the first few minutes of the first quarter, the Eagles were already up 9-6. Junior Lance Johnson completed an easy layup, putting them up 11-6. But then, with three minutes left in the game, the Phoenix tied it up 11-11. But, after a solid 3-pointer from number two, Kyle Skinner, the Eagles were back on a roll, and finished the first quarter up 22-15.
In the second quarter, Rock Ridge started making their comeback. With three minutes left in the second quarter, Freedom was only up by pne point, with a score of 29-28. But, after a couple of missed free throws, the Eagles were down as the half ended, with a score of 32-34. Freedom tried to hold on in the third, making layup after layup, gaining points and catching up to Rock Ridge. In the fourth quarter, senior Yugank Shrestha made a 3-pointer, gaining points and taking over the scoreboard with 53-50. After that, Freedom made a valiant effort, but ended up finishing the game down 61-64.
The varsity boys basketball team plays again on Friday, Jan. 18, against Tuscarora at 7:45 p.m. at Tuscarora High School.